COVE is a c25 minute fictional drama with a cast of six characters, written and produced by Wesley O'Duinn.
The story is set on a remote beach in County Cork where Principal Photography completed in August 2014 on location at Glenawilling Beach, Co. Cork, Ireland.
Its distribution will include entry into a selection of Irish and international film festivals and release on DVD and Blue-Ray.
The project is currently in post-production with editing and musical score due to commence during autumn 2014.
How far would you go to protect what is yours?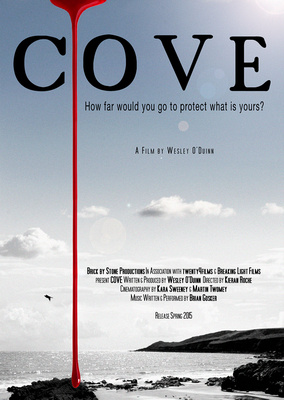 Cove PosterWriter & Producer: Wesley O'Duinn, Director: Kieran Roche
Executive Producer: David Szlaga
Co-production & Cinematography: Kara Sweeney & Martin Twomey
1st Assistant Director: Baiba Berzina
Music: Brian Gosker
Synopsis
On a small secluded beach on the rural Irish coast, the Cove, a rocky and dangerous place, is a favourite refuge for seventeen year-old MARTIN and his brother TIM; twenty-eight. On the day the story takes place Martin and his friend CARL have gone to the beach to surf, but Martin has invited BRENDAN, who has never been asked along before.

When Tim arrives a little later, Martin and Carl are on the beach crouching over Brendan's dead body. In the argument and confusion that follows Tim devises a plan to move the body so it isn't found at the Cove, fearing that the truth would cause the authorities to close their beloved beach.

During the frantic exchanges that follow, the lads are suddenly surprised; the village drunk, affectionately nicknamed THE CAPTAIN, uses the Cove as a short cut to the pub and has happened upon the scene. The lads try to pawn off their situation, claiming Brendan to be simply passed out from drink, but The Captain senses something is amiss and probes until he discovers the shocking truth. Tim is quick to remind him of his illegal fishing nets and pots in the Cove and of the trouble the authorities would bring if they are notified. With this The Captain is cajoled into the drama as an accomplice.

In the desperate hours that follow, all four are thrown into conflict and recrimination resulting in shifting loyalties. Revelations of buried secrets and previous cover-ups force each one of them to face their own past and their present crisis, bringing the story to its inescapable conclusion.
Writer & Producer: Wesley O'Duinn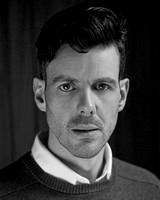 Wesley O'Duinn is a graduate of acting & writing at The Gaiety School of Acting Dublin with additional study at Massey University, New Zealand. He Played in The Hobbit by director Peter Jackson.
Director: Kieran Roche
Kieran is a graduate from the Gaiety School of Acting, Dublin. He Previously performed in theatres including St. John's in Listowel, The CAT Club Theatre in Cork and Siamsa Tíre in Tralee.
His recent theatre work includes The Birthday Man: Gonzo Theatre Company as part of the 2013 Dublin Fringe Festival, The Bears Tuxedo: Monkey Backstage Theatre Company, Way to Heaven: Rough Magic Theatre Company and Fox View Town: part of the 2014 Collaborations Festival. Radio work includes the sitcom 'Choices' to be aired in 2014. Cove is Kieran's directorial debut.